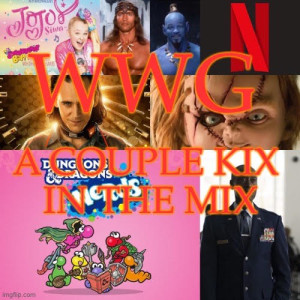 This Week:
A Couple Kix In The Mix
Cereal poll winner taste test: Jojo Siwa Strawberry Pop
Reel Dreem Teem: We pick an actor and 5 of their characters to compete on a team and see who comes out on top.
This Week in Geek: Netflix soon offering video games--MCU actors wish Loki a happy birthday--Don Cheadle doesn't know why he was nominated for an Emmy--Battlefield 2042--Nerds DND--Chucky TV series teaser.
Revs and Rex: Black Widow again--Miracle Workers season 2--Loki season 1 (no spoilers)
As always this is not the FULL episode. If you'd like to hear the full episode head to https://www.patreon.com/worldwarg and sign up for just $1 a month to hear all of our episodes in full.
World War G is a podcast about all things geek. Troy and AJ sit down and talk about all the geeky news of the week. They discuss movies, TV, comic books, video games and anything else they happen to think of. With the occasional taste test, movie commentary and episodes dedicated to one specific category. World War G is a fun, entertaining podcast if you are a nerd, geek, weirdo or anything in between...at least we think so.